Ref:
Date:
Location:
Photographer:
[clikcontent type=paymentBuyLink replaceable=true]
Ref:
Date:
Location:
Photographer:
[clikcontent type=paymentBuyLink replaceable=true]
TO LEARN MORE ABOUT OUR EXPERTS PLEASE CLICK HERE
ARUN MADISETTI
Arun has also worked as a fisheries officer, marine reserves manager, and government liaison and in water as a stills photographer with Sperm Whales for the BBC, National Geographic, Disney, and Japanese TV in addition to his own clients. Published credits began in 1989 with some images used by Doune Marine in Knoydart taken on a Nikonos V. Standards have improved since but a love for the craft of imagery remains. He lives on a tropical island paradise where there is as much to see above water as there is to discover below.
Given an Olympus Weathermatic for his 15th birthday he imploded it a few years later on holiday. He learned to dive in the Bahamas in 1980 and managed to do "a lot of diving" every summer in the Caribbean with no formal training, merely doing as his instructor friends told him. It was after several hundred dives and a need to be "officially trained" that he joined Bangor University SAC rising up the ratings to Club Instructor and holding a number of posts on the SAC board including Training, Equipment and Diving Officer. Once described by one UK dive magazine editor as diving Dorothea Quarry at "the dawn of technical diving".
Since 1980 he has dived a rich and varied number of areas, including around the UK, Red Sea, Puget Sound, Palau, Florida and of course the Caribbean. In the early 1990's he switched to PADI becoming a Master Scuba Diver Trainer. Having completed postgraduate studies at Menai Bridge he moved to Dominica full time in 1993 to become a diving instructor and freelance marine biologist and has made his home there ever since.
He has been a member of the British Society of Underwater Photographers (BSoUP) since 1989 and is also member of the American Academy of Underwater Sciences.
Previous equipment (now in cases) includes Nikonos V's and an array of strobes and extension tubes and wide angle lenses, Olympus 5050 (one working camera and 3 housings) and Inon diopters, wide and dome ports. Current equipment is a Nikon D90 housed in an Ikelite, with Inon D2000 and Z240 strobes with an S-2000 remote.
Images may be found at
www.imagesdominica.com
or on their Facebook page
www.facebook.com/ImagesDominica
DAN BEECHAM
After participating in a 'try dive' with his family in the Florida Keys, Dan was instantly hooked and learnt to dive in the UK before going on to log thousands of dives worldwide. During his years as chief cameraman for the Save Our Seas Foundation (SOSF) Dan's duties included filming stock footage sequences for SOSF's HD library, shooting, producing and editing web shorts and filming sequences on SOSF projects for broadcast documentaries including the renowned BBC series 'Natural World'.
More recently, Dan's footage has been used in the BBC Series 'SHARK' and in 'D'Arros - Secret Seychelles' a one hour special that Dan worked on as the cameraman as well as Director of Photography. Dan works as a freelancer, and is available as an owner operator with Sony F55 system and underwater housing. He operates from bases in Cape Town and the UK.
www.danbeecham.com
www.vimeo.com/danbeecham
GUY STEVENS
Guy has always been fascinated by the natural world, and growing up on a farm in the South West of the UK surrounded by nature provided him with a seemingly limitless supply of weird and wonderful creatures to discover. He always knew he wanted to make a career from studying animals, but it wasn't until he was given a tropical fish tank at the age of eleven that his passion for the underwater world began. From that moment forward when people asked him what he wanted to do when he grew up, he would say "I want to study fish!" So, true to his word he progressed through school and college with this in mind and in 2002 he graduated from the University of Plymouth with a degree in Marine Biology.
University opened his mind to the rest of the world and he was hungry to travel and explore as much of it as he could. Visiting and diving in the Caribbean, Africa and Asia he knew he wanted to work in one of these tropical destinations, so in 2003 when he saw a job advertising for a marine biologist to work in the Maldives he knew it was the job for him.
The Maldives is a marine biologist's paradise and it was in the Maldives that Guy had his first underwater encounter with manta rays. He was enthralled by these amazingly graceful and inquisitive rays and from that moment forward he has been driven by a desire to learn as much about them as possible. In 2005 he founded the Maldivian Manta Ray Project (MMRP) with the aim of helping to conserve this country's manta population through active research and education. His work with manta rays now takes him to other corners of the world, but the Maldives for him will always be the best place to see and study these amazing animals. Guy is now working towards the completion of his PhD on his manta research at the University of York in the United Kingdom.
Guy's conservation efforts in the Maldives have led to the creation several Marine Protected Areas (MPA's) at key manta aggregation sites, most notably at Hanifaru Bay, where his work was featured in the National Geographic Magazine in July 2009. This amazing location, situated in Baa Atoll, was in 2011 also declared a core protected area within the newly designated UNESCO World Biosphere Reserve that encompasses the entirety of Baa Atoll. Guy and his conservation efforts have also featured in over a dozen TV documentaries; including a BBC Natural World Special, National Geographic Worldwide & ABC's "Project Manta", ITV 's "Man to Manta", Channel 4's "Big Fish Fight", 60 minutes Australia and the BBC's "How Life Works".
Guy's images and articles can be found at
www.mantatrust.org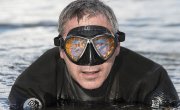 NIGEL WADE
Nigel Wade is the Technical Editor for Diver Magazine UK specialising in underwater photography and scuba diving. Producing editorial and pictorial articles covering all aspects of diving from technical equipment reviews, trip reports, course reviews and safety features.
"I learnt to dive in the Dominican Republic in 1983, choosing to take a try-dive as boredom relief on holiday only to find that from my first underwater breath I loved it. Throughout the years I've gained qualifications from PADI through to instructor level and technical diving qualifications through TDI, which include advanced Tri-mix to 100metres. I'm also a solo diver having gained qualifications from both SDI and PADI in this discipline. Over the years I've dived in 28 different countries and well in excess of 100 destinations from as close to home as Egypt to the other side of the world in Papua New Guinea and Australia. In 2014 I'll be visiting the Maldives for the 20th time and Egypt for the 25th.
I joined the Surrey Fire and Rescue Service in 1979 and enjoyed a fantastic thirty-one years career before finally hanging up my fire-kit in 2010.
I started to take photos underwater in the late 1990's. My wife Karen is a non-diver who I desperately wanted to share my deep-sea adventures with. A camera was the obvious choice so I embarked on a very long (and expensive) journey to get the best shots I could from my dives to share with her. I am self-taught having learned from my many mistakes and driven by a hunger to improve the results culminating in being voted the UK and Ireland Underwater Photographer of the year in 2008.
I am a member of the Royal Photographic Society having been awarded an Associateship (ARPS) via assessment for a submission of 15 images captured exclusively underwater. I am also a member of the British Society of Underwater Photographers (BSoUP) and a member of the Nikon Professional Services (NPS)
After retiring from the Fire Service I worked as a freelance photojournalist for Diver Magazine writing features and capturing high quality images for publication. In 2013 I was appointed Technical Editor at Diver. In the same year I was a nominated finalist in the photography section of the British Travel Press Awards.
I shoot with a range of Nikon cameras; my current underwater set-up includes a D800 in a Subal Housing and my choice of strobes are a pair of Inon Z240's."
Nigel's images can be found at
www.wadeimaging.com
Nigel's Published Features can be found at
www.divernet.com
JAMIE WATTS
Jamie is a marine ecologist, who works and spends as much time as possible in earth's most spectacular marine ecosystems. He writes for diving and geographical magazines, and presents on marine and polar wildlife, global-scale ecology, human ecological footprints and climate change. Jamie's research has included everything from Omani coral reefs to Antarctic copepods, leopard seals, colossal squid and krill to consultancy on offshore tuna fisheries.
After two years over-wintering with the British Antarctic Survey on South Georgia, Jamie has spent seven southern summers shipboard in the Antarctic Peninsula area, six northern summers around the High Arctic and Northern islands, including a transit of the Northwest Passage and trips to the North Pole, as well as mid-Atlantic and Pacific islands trips. Jamie has logged over 200,000 sea miles and four and a half years of sea time, including 104 expedition trips.
Jamie has presented to audiences and students from all over the world, from student groups to dive shows to photography and dive clubs. He has run marine biology courses and workshops in London, Egypt and Indonesia.
When not working, Jamie spends time with his son, researches weird and wonderful marine life or travels in search of wild places and even wilder animals. He is father to fourteen-year old Alex, 'a diver of uncommonly good buoyancy skills.'
Jamie's Marine Life Articles can be found at
www.jamiewatts.co.uk/articles-images/4549734284
Jamie's 'Critter of the Month' can be found at
www.jamiewatts.co.uk
PAUL FLANDINETTE
For over twenty years I've been writing, producing and directing films for some of the world's leading businesses and government organisations and have also produced a number of documentaries for broadcast. Over the years my production company has been lucky enough to have had our work recognised by top awards at US Film and Video Festivals and World Media Festivals.
I'm a keen scuba diver - my first SCUBA course was in 1973 and I qualified as a BSAC intructor in 1993 - over the years I've travelled widely and dived as much as I could, especially in the Far East, the Red Sea, the Caribbean and the UK.
In 2005 I re-discovered underwater photography after a long break when my old film camera and I got 'separated' on a dive. It wasn't until I realised how exciting and liberating digital photography had become that I decided to return to underwater photography.
Gill, my very patient wife and diving partner, and I are currently based in the Sultanate of Oman where I am working with Oman's Marine Science and Fisheries Centre and the Ministry of Agriculture and Fisheries Wealth to shoot and produce "Hidden Jewels of Oman" the first ever coffee table photographic book on the underwater world of Oman due to be published in 2015.
www.paulflandinette.com
PAUL COLLEY
A master scuba diver and open water instructor, Paul was fortunate to receive early expert coaching and encouragement in underwater photography from Martin Edge and Alex Mustard, two gifted UK photographers. Paul has many distinctions for his work including gold medals from both from the UK Royal Photographic Society and the international underwater photography community.
He is an active member of the British Society of Underwater Photographers and of the Bristol Underwater Photography Group. Owner-director of Paul Colley Underwater Photography ltd, he specialises in underwater imaging, freelance photo-journalism and teaching entry-level underwater photography.
With his first book about diving in Ascension Island published in 2013 and his widely acclaimed book "Winning Images" in 2014, Paul is now a recognised expert in aesthetics and composition for underwater photography.
www.mpcolley.com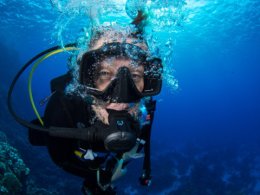 CAROLINE WORLEY
Scuba Travel have been arranging award winning dive holidays since 1995 and have been voted Tour Operator of the Year no less than 9 times out of 10! Whilst we began as a Red Sea liveaboard specialist, today we arrange fully ATOL bonded holidays all over the globe. And that included dedicated photography holidays, escorted and led by the UK's leading underwater photographers.
Our worldwide expert Caroline is the first point of contact for many divers looking to join one of our photo trips. Caroline is an MSDT and first fell in love with underwater photography whilst working as a Red Sea liveaboard guide some years ago. Today she is happiest trotting round the globe, camera in hand. It doesn't really matter what there is to photograph - sharks and rays down to skeleton shrimp and frogfish. Warm water, great vis and 70 minutes underwater are all it takes!
www.scubatravel.com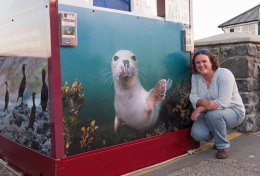 CAROLINE ROBERTSON BROWN
Caroline Robertson-Brown runs Frogfish Photography, along with her husband Nick. Frogfish Photography offers underwater photo-journalism, photography equipment and tuition and is based in Manchester. Caroline has a MSc in Animal Behaviour and has written a series of articles and a course unit about how understanding marine life behaviour can improve your underwater photography. Caroline's favourite dives are those that offer the chance to get in some of the larger marine life such as sharks and seals, both in the UK and overseas.
Caroline is secretary of the Northern Underwater Photography Group and has been a member of BSoUP for a number of years. Last year she won the BSoUP/DIVER British Photography award with an image of a waving seal taken at Puffin Island, just off Anglesey.
She uses a Nikon D200 in a Subal housing with twin INON Z-240 strobes and will usually be found with a large dome port attached with the Tokina 10-17mm. Caroline writes regular features for Sport Diver magazine, covering trip reports and underwater photography techinques.
Caroline is a PADI Master Instructor and has been diving for 15 years, however only took up underwater photography in the last 6 years, when she and Nick setup Frogfish Photography.
www.frogfishphotography.com
MARK HARRIS
Mark began freediving in the Bahamas, at the age of 10. At 14, he was a qualified SCUBA diver, and spent a summer working for 'Scubahamas' helping out on board the dive boat and in the compressor room. He returned to the UK some years later, and as he grew older, SCUBA diving and underwater photography grasped his interest. In 2002, he returned to his freediving roots and began training to compete. Over a 10 year period, he became the UK champion on four occasions and set a number of freediving records. This led to him instructing, coaching, and judging at freediving competitions. He has been Press Officer for the British Freediving Association, and also taught students in the television and film industry (including Guy Pearce for his role in 'Houdini').
In his post as British Freediving Press Officer, Mark dealt with the press, public, media, sports and medical bodies on a regular basis. He has been interviewed on many wide-ranging topics, from a David Blaine underwater stunt, to the terrorist bombing tragedy in Dahab in 2006. He has written several features and news articles.
Mark ran London's main Freediving club, London Freediving, between 2004 and 2012.
His underwater photography initiation was with a SEA&SEA MX10, and then a mixture of Olympus equipment before becoming quite enthusiastic about micro four thirds. This technology appeared to have been developed with the freediver in mind – compact size appropriate for streamlining, but with interchangeable lenses and a reasonably sized CCD. INON was the perfect accompaniment, as their S2000 strobe and thin strobe arms also fitted the hydrodynamic idealism, and the X-2 housing was robust without being bulky. In 2013 one of Mark's images was selected by Brian Skerry to appear in the exhibit "Portraits of Planet Ocean" at the Smithsonian National Museum of Natural History.
He is currently a member of the British Society of Underwater Photographers, is married to underwater photographer Laura Storm, and lives in Surrey.
www.subscenic.co.uk