Nigel Wades Review of INON Z-240 Strobes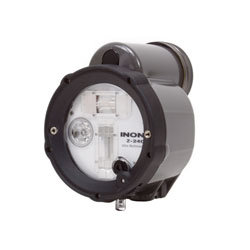 Why do I choose to use Inon Z240 Flashguns ?
I am currently the Technical Editor for Diver Magazine UK producing features ranging from technical kit reviews, safety features, trip reports and course reviews.
My photographic kit consists of Nikon cameras and lenses. I use a Nikon D800 in a Subal ND800 underwater housing for all of my wet work and a Nikon D3S for studio and topside work.
My choice of underwater flashguns has for many years been the Inon Z240.
The reasons for this choice are listed below:
Size and weight, making them ideal for the travelling photographer.
Versatility, I test and evaluate many differing camera systems for Diver magazine. The Z240's are compatible with any and all cameras from full frame "flagship" DSLR's to micro 4/3rds and compact camera systems. The Inons are useable in all modes from manual to TTL and STTL. Using both electronic synch or fibre optic triggering.
Powerful and consistent outputs.
Reliability.
Angle of coverage from full fisheye landscape shooting to tight super macro.
Accessories: The warming filter diffuser has changed my perception of what can be achieved with bright vibrant blue water shots and warm punchy colours with natural skin tones creating eye-catching images that are perfect for publication. The snoot systems are versatile and add another dimension to backscatter avoidance and creative lighting.
Output: The Z240's can be used to give just a "kiss of light" at wide apertures or can punch a lot of light onto subjects when using tight apertures when shooting into the sun.
Shots per battery charge, I can get a full days diving and around 250 shots from one set of 2500mah Nmh Eneloop batteries.
WAM shooting. The strobes are compact enough to pull in tight to my domeport when shooting close subjects with a fisheye lens putting light at the front of the subject.
Remote lighting. I can mount a Z240 on a tripod for remotely triggered off camera strobe lighting.
Nigel Wade ARPS
Technical Editor Diver Magazine
www.wadeimaging.com